ASCAP'S "I CREATE MUSIC" EXPO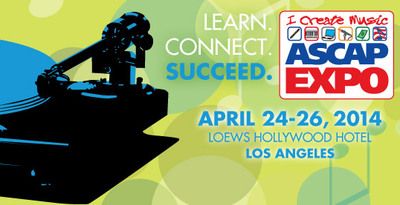 At the end of the month, ASCAP once again is sponsoring their annual "I Create Music" EXPO, this being the event's 9th time at bat. Listed here is the lineup that's taking shape for The American Society of Composers, Authors and Publishers' panelists, events, etc. that will commence April 24th and last through the 26th. The festivities will be at the Loews Hollywood Hotel in LA.
Keynotes and Conversations
*Dr. Luke and Prescription Songs
*"We Create Music:" Gustavo Santaolalla & Paul Williams in Conversation
Master Sessions
*Still So So Def: Master Session with Jermaine Dupri, Powered by Revolt
*Parrots and Dragons and Bourne - Oh My! Master Session with John Powell
*Heart in Motion: Master Session with Amy Grant
*Diversify or Die: Master Session with John Beasley
*You Got the Job...Now What? Master Session with Bear McCreary
*Radiant Voices: Master Session with Morten Lauridsen
Creative Panels
*Rocking the Screen: Artists Composing for Film & TV (Presented by Variety)
*The Alchemists: How Hit Producers Turn Music Into Gold with Michael Knox, Rob Knox, Steve *Lillywhite and Rick Nowels
*From Billboard to Broadway: Hit Songwriters in Musical Theatre
*Soundtracking Hell: The Music of Diablo
*Murphy's Laws of Songwriting
Interactive Panels
*Desmond Child: Brought In for Questioning
*Live Multi-Genre Song Feedback Panel with Darrell Brown - Two Parts (Presented by The Recording Academy)
Diverse Topics
*Women Behind the Music
*Where No Music Supervisor Has Gone Before (Presented by the Guild of Music Supervisors)
*The Gospel Truth
*A View from the Top: Today's Music Business, Tomorrow's Opportunities
*How to Prepare for Your Big Break
*Making the Most of Your ASCAP Membership
*Road Dogs: Touring in the New Media Age
*Break Through and Build Your Career Online (Presented by the Creative Industries Division, *State of Hawaii DBEDT and the Creative Lab at the Hawaii International Film Festival)
*Europe: Is The Phoenix Rising?
Business, Legal and Legislative Discussions
*Congressional Review of the Copyright Act: An Opportunity to Secure Equitable Treatment for *Songwriters and Composers
*Nuts & Bolts of the Music Business with Don Passman, Esq.
Continue reading